January 11, 2021 | All Blogs, Vineyards | Jeremy Weintraub - Winemaker
The 2020 Vintage Report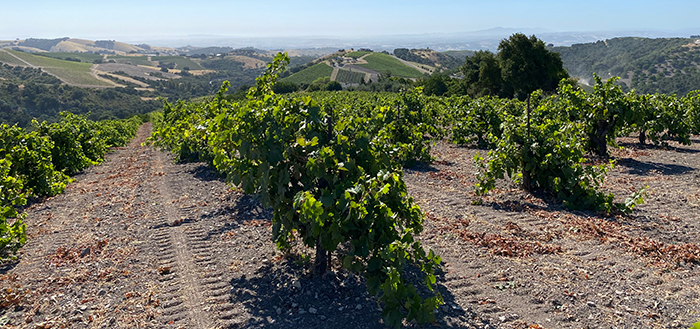 Looking back on 2020, it's easy to assume vineyards in California should be concerned about this year's crops. For that reason, I'm happy to share that Adelaida's estate vineyards were not hurt by many of the issues that plagued others in our industry. And at this time we are confident in the fruit we harvested this season.
Compared to past vintages in the Adelaida District, 2020 was slightly warmer than average and culminated in typical yields across most varieties. The season began with a deficit of rain, though come late March and April, the vineyards were made nice and green thanks to some late-season showers. The wildfires in Northern California created smoky skies in Paso Robles that kept a lid on temperature spikes and—fortunately—did not lead to any smoke taint.
Rainfall
Adelaida received just 12.4 inches of rain during the 2019-2020 winter, which is about half the historic average. In fact, February was entirely dry. Fortunately, rain fell in both March and April, which nudged the vines along through wood development.
Heat
The 2020 season was notable for a nominally higher than average overall temperature, but there were fewer truly hot days than in the recent past. For example, in 2020 there were 14 days over 100 degrees, compared with just one day over 100 in 2019, but 2018 featured 16 days over 100, and 2017 had 17 days over 100.
It is truly impossible to assess whether the grape itself cares if it is 100 degrees outside or 96. The impact of heat—both positive and negative—is dependent on timing. We're happy to report that in 2020, the heat had no deleterious effect on the plants.
Yield
We saw an average of 3 tons per acre (TPA) across Adelaida's 128 planted acres throughout our Estate Vineyards. That ranged from a low of 0.4 TPA in our Muscat, to a high of 6.9 TPA for our Cinsaut. The vineyard-wide tons per acre harvested in 2020 compares favorably with a 5-year average of 1.64 TPA.
Additionally, we were also able to obtain official organic certification and picked a small amount of Cabernet Sauvignon from our newly planted Tir na Nog Vineyard. This brings our entire farming operation to an organic standard we are proud to use across our ranches.
Comments
Commenting has been turned off.