February 5, 2020 | Jeremy Weintraub - Winemaker
The 2019 Vintage Report
The 2019 vintage was ideal in many ways and produced wines that will be delicious when young and increase in complexity with age. The season was notable for ample rainfall during the winter, cool days with sporadic wind and rain during bloom, and moderate temperatures during the ripening and harvest period. Yields were average across the majority of varietals. The vintage was not without its challenges, but overall the quality of the wines should be high.
Rainfall
Adelaida received 24 inches rain during the 2018-2019 winter, including a mid-May (late season) shower that delivered nearly an inch. That compares favorably to 14 inches received in 2017 and the historical average of 18 inches. This winter rainfall led to ample green growth throughout the season, including a bountiful cover crop that nourished the soils and provided nutrients for beneficial soil microbes. Of course, the cost of all that rain meant that we had to make multiple passes in the vineyard to keep the vines open to sun and wind.
Heat
The 2019 growing season is probably the best I've experienced on the Central Coast where temperature is concerned. It was a moderate year with just one day over 100. In contrast, in 2018 there were 16 days over 100 and in 2017 there were 17 days over 100.
Irrigation
We applied an average of 50 gallons per vine in 2019, half of which came post-harvest, compared to 66 gallons per vine in 2018. That reduction is a function of both the winter rainfall as well as modest temperature in the 2019 growing season. This is all in stark contrast to St. Helena, for example, which applied between 150-175 GPV and Howell Mountain, which applied between 100-150 gallons per vine.
Yield
We saw an average of 2.1 tons per acre across Adelaida's 128 planted acres, ranging from a low of 0.4 (Muscat) to a high of 6.2 (Cinsaut). The vineyard-wide tons per acre harvested in 2019 compares favorably with a 5-year average of 1.64 TPA.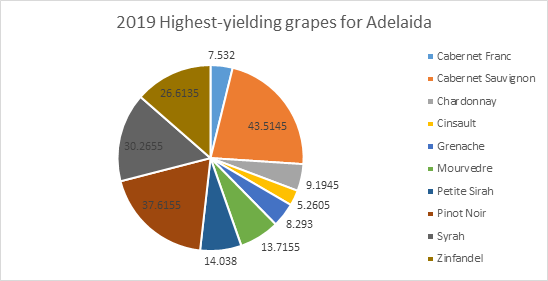 Comments
Commenting has been turned off.