November 29, 2016 | Ratings, Accolades, & Press | Adelaida Team
Press: Best Paso Robles Wineries to Visit
Article: Visit Food & Wine for full article
Located about halfway between San Francisco and Los Angeles, the Paso Robles American Viticultural Area (AVA) takes in a sprawling, western landscape of rolling hills, rugged mountainsides and Pacific Ocean coastline. The area is so large and diverse that it now encompasses 11 smaller AVAs, including the Adelaida District and Templeton Gap District.
Sun- and heat-loving Zinfandel was Paso Robles' first calling card, and some of the state's best are still found here. A second wave of wine production in the region saw Bordeaux varieties like Cabernet Sauvignon come to prominence. But recent years have seen the burgeoning prestige of what is known as the "Westside"—west of the town of Paso Robles itself—where the flat plains east of town give way to the steep hillsides of the Coast Range, and temperatures are moderated. These vineyards are among those that have led the charge for the Rhône-style wines, like Syrah, Viognier and blends featuring Grenache and Mourvedre, that are enchanting many wine lovers. In the southwest, the fog and Pacific breezes coming through the Templeton Gap, have influenced the vineyards, which produce wines—including Pinot Noirs—that have a cool climate freshness and acidity.
There are many tasting rooms right downtown in the charming town of Paso Robles itself, but the scenic beauty of the area—and attractions like the Hearst Castle at San Simeon and Morro Bay—make it worthwhile to get out on the roads and take it all in. —Richard Nalley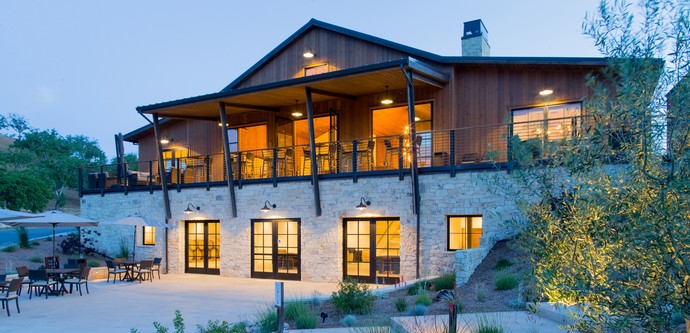 Adelaida Feature
Family owned Adelaida is one of Paso's pioneers, established in 1981, and a case study for winemaking at altitude—its 157 acres of vineyard lie on soil that's situated at 1,400-2,000 feet. Visitors experience the impressive altitude firsthand, driving up to the hilltop tasting room. Though best known for its Rhône wines, Adelaida makes an array of other wines, including Pinot Noir and Cabernet, and pours a generous selection in the tasting room ($10). Book ahead for special experiences like the vineyard tour that culminates with a tailgate picnic at 2,3000 feet ($50). adelaida.com
Comments
Commenting has been turned off.