October 3, 2023 | Vineyards | Chad Taber - Ranch Manager
Muestras: A love story
Muestras is the Spanish word for samples. For most, sampling grapes is the first lesson learned as a viticulturist, and it is a beautiful example of how we think about vineyards.
Sampling teaches us how to look at the vineyard as a whole. We start thinking about collecting these samples as fruit transitions from olive green to various shades of red and translucent green for white varieties. This transition is a pivotal moment, and from this moment, the vineyard and winery work together more and more as the baton is passed from one hand to the next.
We collect grapes from each section of the vineyard to monitor ripening until the day we decide they are at ideal maturity for each wine program. When thinking about mountain vineyards like Adelaida, we have variations in elevation, soils, sun exposure, water holding capacity of soils, and so on. So, when sampling vineyards, all aspects are considered while setting collection parameters. As Humans, we naturally look for patterns, and we have been conditioned to pick dark-colored berries that have higher sugar/energy. However, we have to override this drive, which can bias the sample, and we must add up all the factors in our heads in order to collect a truly representative sample. We start by choosing how many clusters represent the block. We never collect fewer than 24 clusters, and we systematically collect clusters all through the block.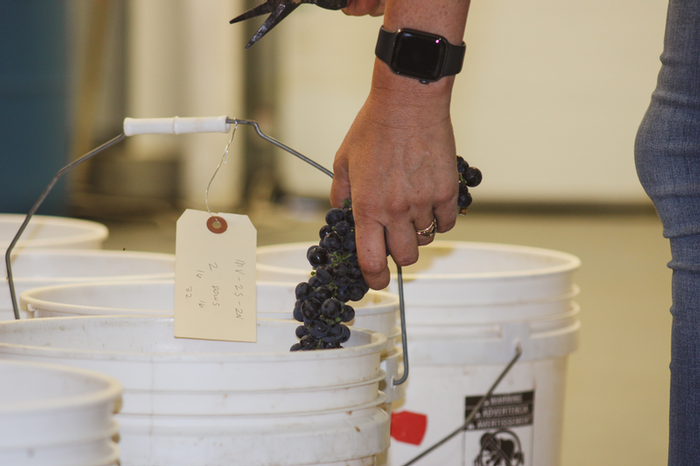 These Zinfadel grapes were taken from the 2S block of Micahel's Vineyard.
After samples are collected during the cool morning hours, the clusters are counted and weighed to help aid in crop estimation. Now at the winery lab, the samples are crushed and left on the skins to soak. Juice samples are collected to first measure Brix (sugar content) and then acid (pH and Titratable Acidity). These numbers provide a trend line that contributes to our understanding of how the grapes are maturing and we repeat this weekly until harvest.
However, the ultimate decision to harvest is made by tasting the grapes in the vineyards. Lab analysis cannot see the color of the leaves or know what subtle dimpling of the skins means to the complexity of wines. Sugar and acid are variables in the equation, but the human touch is essential in producing beautiful wines of place. If you have made wine or grown grapes, you have almost certainly collected muestras and gotten lost in a vineyard!
Comments
Commenting has been turned off.