May 22, 2013 | Adelaida Team
Meet the Cellar Crew
I have been abundantly thankful for the quality and character of people on our production team. This past year, and most notably, the past Harvest would not have been such a glowing success without their tireless hard work and dedication. These guys are very dear to me, like family
Meet Hugo Cabrera, Cellarmaster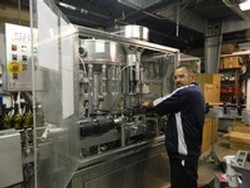 Photo is Hugo tinkering with our bottling line.
Hugo has been with Adelaida Cellars for 6+ years now. He has been my right-hand-man since I came back to Adelaida as Assistant Winemaker in 2011 and I couldn't be more appreciative of him. As the leader of the production team, Hugo plays a number of vital roles at the winery. Among them: Bottling Line Magician, Sanitation Drill Sergeant, Cattle Prod Expert, Forklift King, and Winery Equipment Guru. Hugo takes proud ownership of the cellar and commands respect by setting a good example for the crew. He's a task-master, and there's not a job I can't trust him with. Hugo lives in San Miguel with his lovely wife, Isabel, and three kids plus one more on the way! He's hoping for another boy, but methinks it's a girl. ;-)
Next up is David Michael Keith, our Enologist.
Photo is of David performing a Free SO2 analysis in the lab.
David is the newest member of the production team. I met David while finishing up my degree at CalPoly. He originally joined our team for a seasonal Harvest position. Forces beyond our control presented a number of challenges for us this past Harvest, and David selflessly volunteered to take a quarter off at CalPoly to work on our team full-time, ensuring a successful vintage. For that, I am eternally grateful. David has since graduated from Cal Poly and become the Enologist at Adelaida. I suppose I could call him my "left hand man" because, like Hugo, I count on him for a lot. He performs all the lab analysis for our wines—and I mean all of it. The lab is now outfitted such that very few samples ever have to be sent to outside chemists.
Zack Vivian, Cellarus Ratus, is next. Cute, isn't he?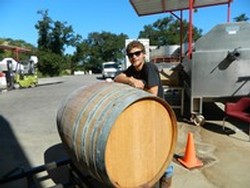 Photo is of Zack outside by the bladder press, hanging out on/with a barrel.
2013 was Zack's 3rd Harvest at Adelaida Cellars. We have been continuously impressed with Zack's work ethic and can-do attitude, so we decided to hire him full-time after this past Harvest. Zack is a young, fun, quirky Paso Robles native who is showing increasing interest and passion for a career in the wine industry. I can't wait for him to turn 21, because then I can show him the more esoteric and hedonistic side of winemaking. Zack is hoping to jump-start his career by doing some overseas harvests next year.
Last, but certainly not least, is Jose Graciano, Cellarus Ratus tambien.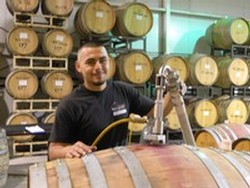 Photo of Jose racking one of our Syrah puncheons to tank for the 2011 Anna's Syrah Blend.
Jose was first introduced to Adelaida Cellars, and to the wine industry in general, as a seasonal intern last harvest. He was and continues to be such a hard-worker and quick-study at all things production, we just had to have him as well. So, like Zack, we picked him up full-time after the 2013 Harvest. I think of him as Hugo's "mini-me"—though he's SO not mini. Have you seen the guns on this guy?!? He's proving to be a very trusted and loyal member of our team. Also, we're happy to announce the birth of his firstborn child, a little girl (muahahaha), Elissa Graciano, 8 pounds, 3 ounces on 5/14/2013.
Comments
Annette D
@ May 22, 2013 at 4:37 PM
Love it, Love it Love it Cynthia....Good job!!!!!!!
Commenting has been turned off.