September 1, 2015 | Jeremy Weintraub - Winemaker
Harvest 2015 is in Full Swing!
Full Press: Harvest 2015
August 14th marked the first official day of harvest, and as is tradition here at Adelaida Cellars, we toasted to the season with 1984 Adelaida bubbly! An early budbreak coupled with a light cropload spurred an early start and an early end to the 2015 harvest. Our first pick was HMR Chardonnay in mid-August and our final pick was Viking Cabernet Sauvignon on the last day of September. With our commitment to dry-farming, we asked the vines to scavenge for water that had become increasingly scarce during the persistent drought. In July we had a highly unusual deluge that brought a second-wind to the vineyards just as they were entering the critical growth period where color, sugar and phenolics all assemble inside the berries. This hydration event sustained the optimal development of our clusters and led to a classic season. There were a few typical heat waves in September and the vines responded well, likely because they've become used to such conditions.

We're very excited about the concentration of flavors and the high acid in the fruit and must, which promises delicious wines and liveliness. Many of the wines have already been barreled down, and Cabernet Sauvignon is continuing to ferment in oak and concrete tanks. We expect great wines from the 2015 vintage and can't wait to share them with you. Look for the 2015 whites in about a year and the 2015 reds in 2017.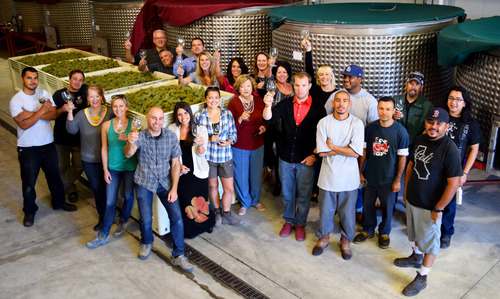 Comments
Commenting has been turned off.