January 2, 2014 | Jeremy Weintraub - Winemaker
2013 Harvest Notes
The 2013 harvest was the earliest on record for Adelaida due to low winter rainfall and steady warmth throughout the growing season. Total yields were about average and quality was excellent. At this early stage, with most of the wines still completing their secondary fermentation in barrel, the reds are deeply colored and the whites are showing great richness and vibrancy.
This year was our first farming organically. The dry conditions allowed us to limit the number of passes we made in the vineyard to control fungi, and, even with those drought conditions, we severely limited irrigation to occasions where the plants would have suffered without it.
On August 19 we picked the first fruit of 2013: A small amount of Chardonnay, Pinot noir from 6 rows in the northeastern part of our HMR vineyard, and syrah from our Viking vineyard. Simply put, the fruit was ready to come off the vine. By way of contrast, and as a demonstration of the effect of temperature on harvest date, in the cool 2011 vintage, we picked the first Chardonnay on September 19, the first HMR Pinot noir on September 23, and the Viking syrah on September 21.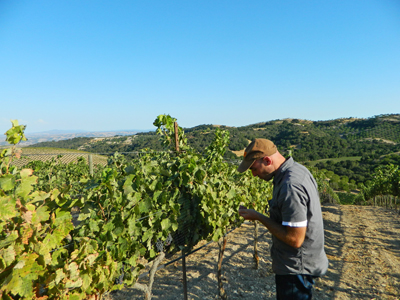 Our final pick of 2013 was muscat for our dessert program from Bobcat vineyard on November 11. We made two passes in the muscat, the first being clean fruit with high sugar and relatively more acid (31 brix) and the second with a little botrytis (at 33 brix). The botrytis infection was limited because of dry growing conditions, and we hope to see more in 2014.
We brought in significantly less zinfandel and cabernet sauvignon in 2013, much to our disappointment. The cabernet berries, in particular, were very tiny, and the Viking vineyard, which was planted in 1991, showed its age by not producing as much fruit. But what that vineyard lacked in fruit quantity it made up for in quality.
The zinfandel vines from Michael's block, named after our stellar ranch manager Michael Whitener, bore the combined effects of drought conditions and dry farming. The fruit struggled to reach its typical sugar levels, and we made several surgical passes throughout the growing season to balance the amount of fruit with the vine's ability to ripen it. We're happy that we did, as the wines so far show great finesse and spice.
In between the first and final picks, we saw much to admire in 2013. The red berries had thick skins, which they synthesized as a result of several environmental and cultural factors, including sunlight, temperature, shoot positioning and low rainfall. The resulting wines have great color and extraordinary tannin. The whites grapes benefited from cool nights, which helped retain their acidity, and careful farming, which kept leaf cover over the fruit to minimize sun damage. Our switch to night harvesting in 2013 kept the fruit nice and cool when it arrived at the winery.
Comments
Commenting has been turned off.