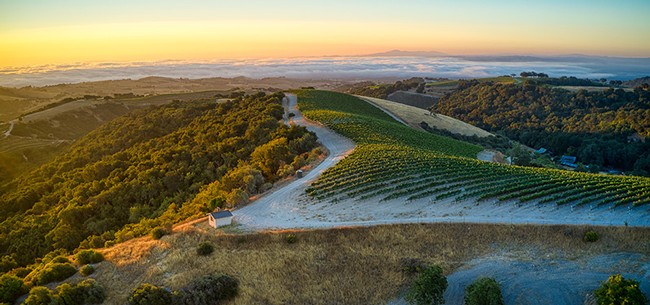 Vineyard Details:
Varietals: Cabernet Sauvignon, Cabernet Franc, Syrah
Soil: Calcareous Clay
Elevation: 1400-1695 feet
Yield: 1-2.5 tons/acre
Planted in 1991, Viking Estate Vineyard marks Adelaida's first estate vineyard and stands as a true Cabernet site. Located 14 miles from the ocean in the coastal-influenced Adelaida District, Viking Vineyard grows among the steepest slopes on the Adelaida property, with elevations reaching 1,900 feet. Sitting on a precipitous south-facing slope, the site presents a challenging environment for growing grapes. Defining characteristics of Viking Estate Vineyard include calcareous limestone soils, south-facing slopes, and a mountain-like micro-climate that elevates UV absorption.
The separate sections of Viking Estate Vineyard (Upper & Lower) vary between 1,400 and 1,695 feet. These late-ripening vines receive the full arc of the sun while keeping their crisp mountain fruit character (a function of elevation) and the dramatic 40-50 degree afternoon cool-down brought by the intrusion of the marine airflow.