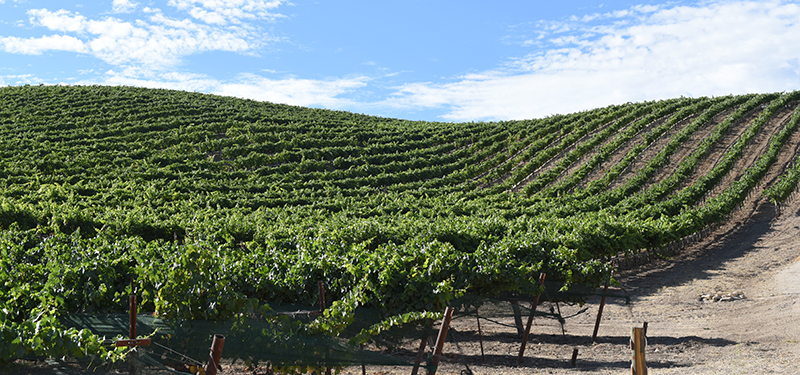 Vineyard Details:
Area: 39 acres
Varietals: Chardonnay & Pinot Noir
Soil: Calcareous Clay
Elevation: 1600-1725 feet
Purchased in 1994 by Adelaida, Hoffman Mountain Ranch (HMR) Vineyard is one of the most celebrated and historic vineyards in California and home to the Central Coast's oldest Pinot Noir vineyard. The story of this uniquely successful vineyard dates back to 1964 when Dr. Stanley Hoffman planted the first Pinot Noir, Chardonnay, and Cabernet Sauvignon in the Paso Robles area. The climate, terrain, and lime-rich soil of his Central Coast property is comparable to the viticulture regions of France. In 1973, the Hoffman family began dedicating their lives to the vineyards, moving from Southern California to Paso Robles, determined to make premium estate wines. That same year, André Tchelistcheff joined HMR as a consultant and, through his guidance in the vineyards and winery, HMR produced wines that merited honors at competitive tastings. As fate would have it, Hilltop Ranch and the Van Steenwyk family found themselves neighbors to the Hoffmans. And so, the first seeds of Adelaida were planted.

The rare, old vine Pinot Noir (34 acres) dating back to 1964 anchors this property. Due to its unique microclimate, this pioneering vineyard, located 14 miles from the Pacific Ocean, is particularly well-suited to growing Burgundian grape varieties. Temperatures in the HMR vineyard often remain 10 to 15 degrees cooler than the other vineyards. Facing south on a steep slope, these vines sit in the lower part of the hill, in a concave bowl-like formation. The diverse landscape of ridge tops, rocky slopes, and natural depressions produces a complex set of aromatics and subtle flavors for the different resident varietals. Vines struggle in the rolling mountain terrain's calcareous shale soils, located between 1,600 and 1,725 feet in elevation, creating low yields—frequently less than one ton per acre. The Pinot Noir vines here grow on their own roots.