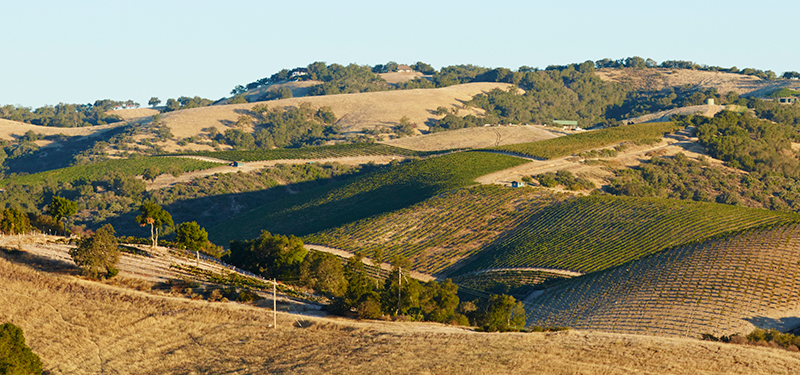 Vineyard Details:
White Varietals: Viognier, Picpoul Blanc, Rousanne, Grenache Blanc
Red Varietals: Syrah, Grenache, Mourvèdre, Petite Sirah, Cinsaut, and Counoise
Soil: Calcareous Limestone
Elevation: 1595-1935 feet
Yield: 2 tons/acres
Established by former owners Don & Elizabeth Van Steenwyk, Anna's Estate Vineyard was named after Elizabeth's grandmother. This mountainous vineyard partly surrounds the HMR Vineyard and produces Adelaida's Rhône wines. The white varieties lie at the lowest point of the vineyard where they benefit from a pooling of cooler air, with the exception of Viognier. The red varieties are planted at higher elevations where they benefit from ideal sun exposure, with grapes from the south-facing ridge location often exhibiting the nuanced flavors of their elevated mountain site.
At between 1,595 and 1,935 feet in elevation, the red varieties lie on an extreme 30-degree slope rooted in calcareous shale subsoils. At 14 miles from the Pacific Ocean, the afternoon marine air flow accentuates a dramatic 40-50 degree diurnal temperature cool down.