Winery News


Carrot Soup
2017 Chardonnay, HMR Vineyard

Ingredients:
2 lbs Carrots, peeled and diced
½ C Water, or enough to cover the carrots
½ C Extra-Virgin Olive Oil
1 T Tangerine or Orange Marmalade
1-2 tsp Ground Cumin
3-4 Drops Tabasco Sauce
1 ea Orange, juiced
1 T Shallot or Onion Powder
1 pinch Ground Nutmeg
4 sprigs Cilantro, half chopped
4 ea Roma Tomatoes, seeded and diced
¼ C Focaccia Croutons
Salt and Freshly Ground Black Pepper
Directions:
Soup:
Simmer the carrots in salted water until soft, about 10 minutes; drain, reserving the liquid.
In a blender, combine carrots with olive oil and marmalade until smooth, adding reserved cooking liquid until desired consistency is reached. Season with cumin, salt, pepper, and Tabasco.
Add the orange juice, shallot powder, and nutmeg. Mix with the chopped cilantro then return to the pot to serve warm or place in the refrigerator to chill.
Focaccia Croutons:
Preheat an oven to 350 degrees.
Cut the focaccia into ½-inch squares; lightly toss with olive oil, salt, and pepper and place on a rimmed baking sheet lined with parchment.
Bake for 8-12 minutes or until golden brown. Cool before serving.
Final Notes:
If serving hot, add the diced tomatoes to the soup and reheat. If serving cold, put the soup in bowls and decorate with diced tomatoes. Garnish with focaccia croutons and a cilantro leaf.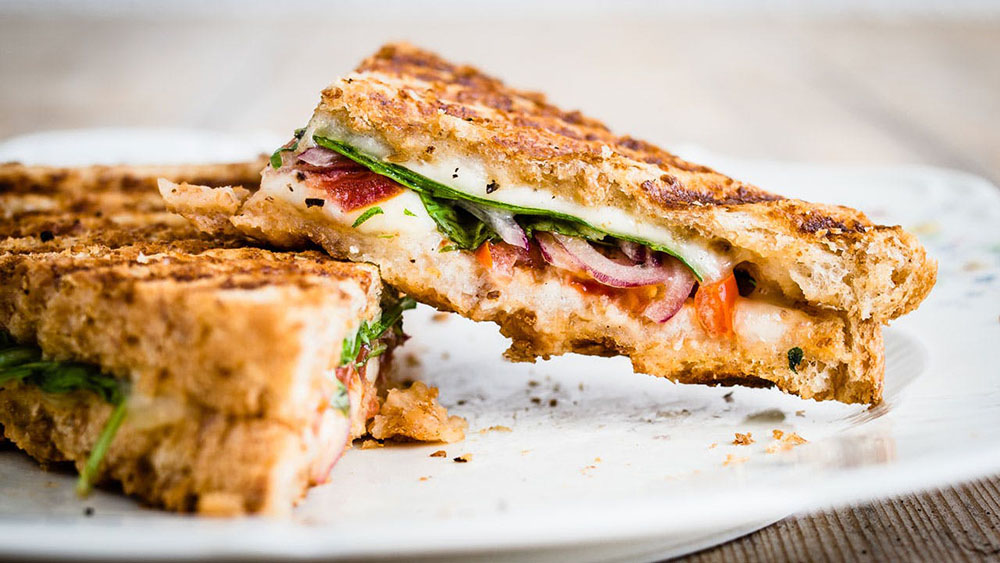 "Adult" Gilled Cheese
2017 Pinot Noir, HMR Vineyard
INGREDIENTS:
2 slices focaccia bread
1 tbsp butter
½ tbsp olive oil
2/3 cup gruyere cheese, shredded
4 slices prosciutto
2 slices tomato
½ cup arugula
3 thin slices of red onion
INSTRUCTIONS:
Spread butter on the outside pieces of the focaccia. Assemble cheese, prosciutto, tomato, arugula and red onion onto sandwich.
Heat olive oil in a pan over medium-low heat. Add the sandwich, then press a heavy pan on top to weigh it down.
Cook the sandwich for 4 minutes per side, or until golden and crispy. Serve immediately.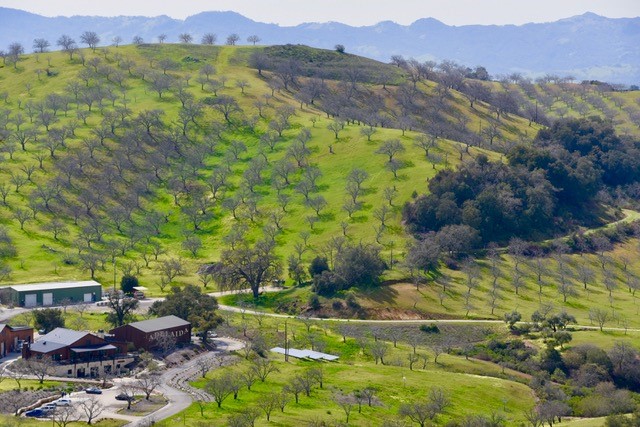 A Letter from the Owners
Dear Valued Adelaida Vineyards Wine Club Member:
Happy Spring! Hello, my name is Kedrin; I am the daughter of Adelaida Vineyards' founders. My husband Liam and I assumed management of the winery about three years ago when my then nearly 90-year old mother, Elizabeth, decided that perhaps it was time for her to retire! She still comes to winery events and loves a sip of our Picpoul Blanc in the evening. It is her elegant signature that you see on the premium selection wines from Adelaida: her guarantee of excellence in every bottle.
As I pen this letter to you, the soft blue skies and Irish-green carpeted fields outside my Paso Robles window become even more brilliant as the sun rises; Paso is as gorgeous as I've ever seen it. The bright yellow mustard flowers are in early bloom, and the hills are dotted with orange swatches of the California poppy. The 2019 growing season at Adelaida Vineyards is off to a wonderful start, stimulated by over 27 inches of rain in our area so far. Our vineyards are full of nature's cover crops of grasses and a sea of yellow mustard. Adelaida's winter weather kept the vines dormant longer. While bud break the past few years was in mid to late February, this year our vines have just "woken up" in the vineyard. Even with all the lovely rain, we continue practicing water conservation with collection of our extra water in our ranch ponds and storing overflow in tanks. With Spring pruning nearly complete, we await the beginning of our next growing season with great excitement!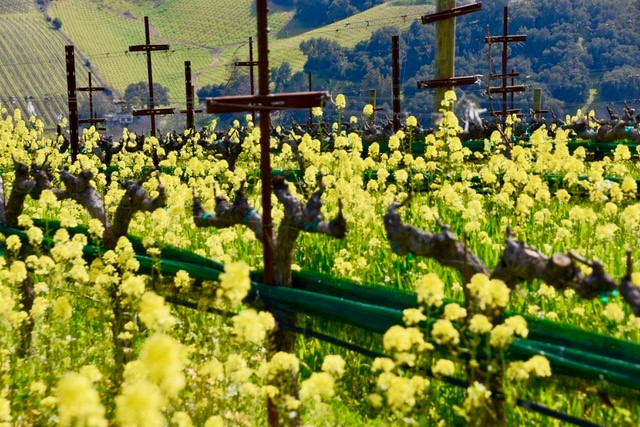 Liam and I have taken Adelaida through a makeover, both in the vineyards, the tasting room, and in and on the bottle. You have probably noticed our new labels, the Signature Label, and our Illustration Series/Vineyard Designate label (the one with the sketch of our vineyards and hills). We love showing off the land from which our amazing fruit is grown!
With the guidance of our winemaker, Jeremy Weintraub, and our Ranch Managers, Mike Whitener and Chad Taber, we have improved farming techniques and are moving to a 100% organic process, for which we are nearing certification. We continue to promote the beauty and health of our land and its flora and fauna by leaving much of our acreage in its natural state and using dry farming techniques to conserve water. Our ponds and unique recycling and storage of our pond water helps with the occasional need for irrigation and fire protection.
Adelaida Vineyards' production area is sporting several new concrete tanks and wood fermenters as we improve the ability to 'season' our wines. We now have a wonderful optical sorter that, if you are around during harvest, is an amazing sight to watch; the machine can spit out 99.5% of bad grapes at a rate of four tons per hour. Having such selected fruit to use continues to improve the quality of our already excellent wines!
I know you will see the results of our team's efforts in the wines you receive in this shipment.
Warm Regards,
Kedrin Van Steenwyk and Liam Duggan