Winery News

Chardonnay HMR 2016 - $32.00/members
94 points, Doug Wilder - Purely Domestic Wine Review | 91 points, Wine Enthusuast | 91 points, Vinous
One sniff and you will be hooked! Our small block of Chardonnay was carefully handpicked, fermented and aged in 85% neutral barrels, 10% new French oak barrels and 5% in one stainless steel barrel for 8 months. Lemon, melon, honeysuckle, brioche with a smooth and silky fresh finish. Drink through 2019.
Keeper Red 2015 - $24.00/members
38% Syrah , 20% Mourvedre, 19% Grenache, 12% Cinsault, 11% Counoise
Aromas of ripe blackberries and blueberries, dried thyme, chocolate tinged espresso, roasting meat
Flavors of compote of black plums, blackberries and blueberries dusted with herbs de Provence and cracked white pepper, dark chocolate and espresso
Cabernet Sauvignon Rutherford (Napa Valley) 2015 - $68.00/members
This suave and polished wine exudes provenance in its voluptuous concentration, the bouquet of ripe black cherries, cedar plank, and Belgian chocolate and delivering as promised understated deliciousness. Matured in predominantly new French oak barrels for 20 months the wine displays flavors of plum and ripe black berry juiciness and a marathon finish of sweet cedar and cassis. Drinking well now, best before 2025.
Anna's Red 2014 - $32.00/members
Cinsaut 29%, Mourvedre 25%, Counoise 22%, Petite Sirah 11%, Grenache 8%, and Syrah 5%
Aromas of strawberry and blackberry compote, herbs de Provence, hazelnut liqueur
Flavors of Barely sautéed strawberries with allspice, light veal stock, sage and thyme
PInot Noir HMR 2016 - $48.00/members
The wine possesses an initial gossamer silkiness morphing into flavors of black cherry, raspberry tea, and forest floor dusted with whorls of spicy potpourri. It will outgrow its current adolescence in a few months, best enjoyed from late 2017 through 2023.
Zinfandel Michaels 2016 - $36.00/members
Aromas of briar patch, fresh picked raspberries, Grandfather's pipe tobacco, pink peppercorns
Flavors of wild mountain berries, sweet/tart lingonberries, mocha, brown spices, peppercorn dust.
Grenache Blanc 2016 - $28.00/members
94 points, Doug Wilder - Purely Domestic Wine Review | 91 points, Wine Enthusuast | 91 points, Vinous
Aromas of honeysuckle, lemon meringue, baked apples, gingerbread.
Flavors of honeydew melon, lemon custard, ginger cookie, quince.
Syrah Anna's 2015 - $36.00/members
Aromas of roasting coffee beans, blueberries, anise, cracked peppercorns and bay leaf.
Flavors of espresso coffee from Ethiopia (blue fruit character), black plums, meat juices, dark chocolate.
Anna's Red Signature Annas Vineyard 2014 - $48.00/members
Mourvèdre 39%, Syrah 33%, Grenache 26%, Petite Sirah 2%
Aromas of black forest fruits with notes of underbrush and wild herbs.
Flavors of savory game infused blackberry reduction with herbs de Provence.
Nebbiolo Glenrose 2012 - $38.40/members
Aromas of rose petals, anise, raspberry sauce, forest floor, new leather.
Flavors of cherry skin, rose hips, anise, cloves, freshly turned soil.
Syrah Signature Anna's Vineyard 2014 - $64.00/members
92+ points - Robert Parker's Wine Advocate | 91 points - Connoisseurs' Guide to California Wine
Blue and Black fruits, bacon, cured meats, tanned leather hides, damp soil.
Flavors of blueberry and blackberry compote, charcuterie, tapenade, light roast coffee
Dessert Wine 2015 - $28.00/members
Always the last pick of the year, Adelaida's dessert wine is based on a small block of aromatic Muscat au petite grains or Muscat Blanc. The frozen grapes are pressed off, producing only a few drops of sweet nectar-like juice per grape, minus the still frozen water fraction. Sweet wines ferment slowly (over several months) and require a specialized yeast strain that can metabolize the elevated sugars. Small crops from this acre site necessitated a blend of two vintages. Serve well chilled in a normal wine glass to show the full aromatic intensity.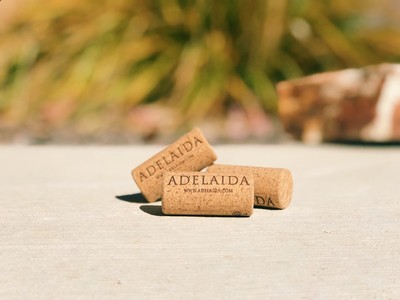 I try not to get philosophical when it comes to wine, as the point is to enjoy it and not dwell on it in any existential way. But winemaking and grapegrowing are hopelessly bound up with tradition. People have been drinking some version of wine for 8,000 years, so that's to be expected. But there are numerous reasons to question which traditions are worth heeding and which are best abandoned, and, simply put, the use of cork as a closure for wine bottles has reached its point of usefulness and value at Adelaida.
Cork is the outermost bark of an evergreen oak. Horace says that the Romans used cork to stopper their wine vessels, which were likely made of earthenware, but adds that these were then sealed with pitch, as the corks themselves weren't sufficient. Rocks were also used to stopper earthenware containers. Glass then became the stopper of choice, until the 1600s, when Dom Perignon began using cork because glass itself wasn't very effective at keeping oxygen out.
By the late 1700s, cork had regained favor. It did a better job of keeping oxygen out than anything else available, it allowed a certain amount of oxygen ingress--which may or may not be advantageous for a wine--and it was a renewable product.
Two attributes of cork are of primary concern when it comes to wine, especially as it relates to Adelaida wine. The first is the cork's propensity to deliver into wine a compound called Trichloroanisol, or TCA. This compound, while innocuous to health, makes a wine smell moldy or musty; that is, tainted.
Adelaida has been purchasing the most expensive corks on the market and they've been guaranteed to be free of cork taint. Unfortunately, we've still found bottles that are corked. The cork company has offered to buy back the bottles that are corked, but that doesn't help out the consumer who opened that bottle up as a special occasion, or who gifted that bottle to a friend.
The second challenge with corks is arguably one of its virtues: it's a natural product, so each one is different. But, that also means that each wine bottled under cork will smell and taste different, too. I've been asking myself how I'd feel if my companion and I ordered the same dish at a restaurant but found one being different in quality than the other. It's just not acceptable.
Which brings us to the Diam cork. The Diam is made from natural cork that's been milled, treated with supercritical carbon dioxide to eliminate all impurities, and formed into a cork shape with a binder.
With these new corks we are confident that each bottle of Adelaida wine that you purchase or receive as a gift will smell exactly like it's supposed to smell, bottle after bottle.
Jeremy Weintraub, Winemaker