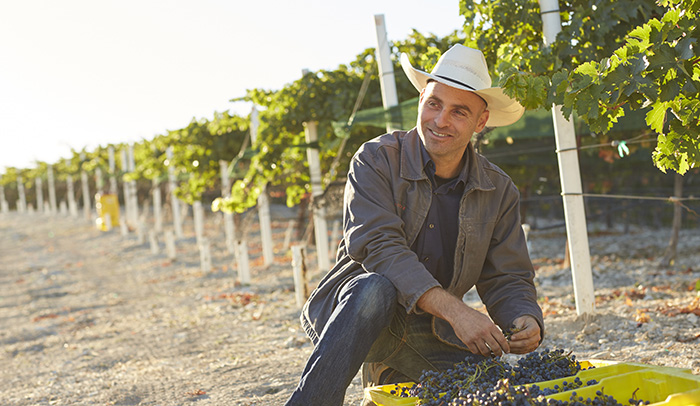 Jeremy Weintraub joined Adelaida in 2012 and brings a wealth of experience and perspective to the winery. His goal has always been simple: to create wine that conveys its origin. Wine that is intense, fragrant, and long-lived. Wine that reflects the land in which it was grown. He sees his role as a guide, finding the sites where the vine will make the best grapes and farming those sites to enhance the final wine.
"What proves central to Weintraub's approach to winemaking is a quest for intimacy with the vineyard rooted in an eye towards refinement."
–ELAINE BROWN, HAWK WAKAWAKA WINE REVIEWS
Prior to Adelaida, he worked at Seavey Vineyard in Napa Valley, garnering high critical acclaim and several 95+ point scores for his wines. Jeremy took an unusual path on his journey to "winegrowing"—a term he favors, as it denotes the importance of both the land and vines. His career started with economic and political writing in Washington, DC but his passion for wine inspired a change. Jeremy attended and graduated from the UC Davis School of Enology in California, achieving a Master's in Viticulture and Enology while on a prestigious scholarship from the Wine Spectator. He gained experience working with the classic and noble grapes on both coasts of the US, Central Otago, NZ, and in Tuscany at the Antinori Tenuta Tinagnello winery.
Under Jeremy's tutelage, his love for the land has translated into increasing conservation measures on the properties. He has improved dry-farming in the vineyard, installed localized evapotranspiration technology for grapevine watering management, and increased focus on natural farming techniques. Jeremy echoes Don Van Steenwyk's original desire to allow the land to express its innate beauty with minimal external manipulation.
Jeremy's familiarity and understanding of the various Adelaida vineyards exemplify his fresh eye and open mind to winemaking. He doesn't enforce a stylized approach, but rather is flexible, dynamic, and nimbly attuned to what the vineyard and the vintage tell him.