Vineyard Details:
Total Acres: 25.5 acres
Varietals: Cabernet Sauvignon 19 acres, Caberent Franc 2.5 acres, Syrah 2 acres, Petit Verdot 1 acre, and Malbec 1 acre
Soil: Calcareous Clay
Elevation: 1400-1695 feet
Vine Spacing: 4 ft. between vines and 8 ft between rows. 1361 vines/acre
Yield: 1-2.5 tons/acre
The 16.5 acre Viking Vineyard is a true mountain site, located in the coastal influenced Paso Robles Adelaida District, 14 miles from the Pacific Ocean. Sitting on an extremely steep, south facing shelf of limestone, the site presents a challenging environment for growing grapes. Planted to three varieties, it is the focus of our Bordeaux program, emphasizing cabernet sauvignon (13 acres), and cabernet franc (1.5 acres) plus a unique small block of northern Rhône sourced Syrah (2 acres). The original vines date back to 1991 and were augmented with an additional 5 acres of cabernet sauvignon in 2000. Vine spacing is the tightest of all seven Adelaida Vineyards; 4 feet between vines and 8 feet between rows, 1361 vines/acre. Cabernet yields average 2 – 2.5 tons/acre, while the Syrah struggles to reach 1 – 1.5 tons/acre.
A further 9 acres of Bordeaux varieties, Cabernet Sauvignon (6 acres), Cabernet Franc (1 acre), Petit Verdot (1 acre), and Malbec (1 acre), were installed on a separate site in 2007, coming online in 2012. Grafted onto lime tolerant rootstock, the vines are drip irrigated and trained to a vertical shoot positioning system.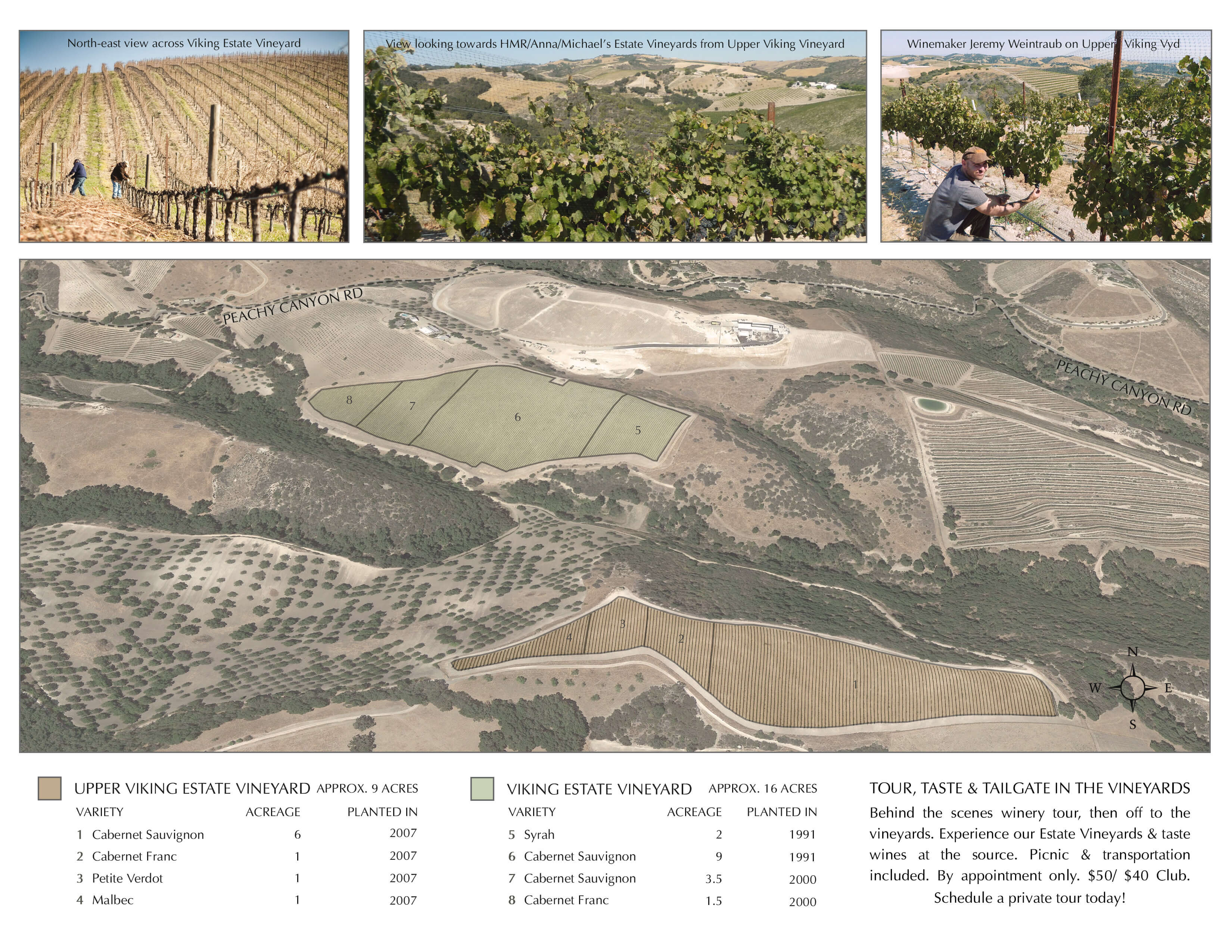 Both Viking Estate Vineyards vary between 1,400 and 1,695 feet, these late ripening vines receive the full arc of the sun while keeping their crisp mountain fruit character, a function of elevation and the dramatic 40-50 degree afternoon cool down brought by the intrusion of the marine air flow.