August 3, 2015 | Annette Dennigmann
Meet the Ladies of Adelaida's Wine Club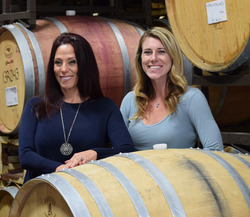 Annette Dennigmann & Morgan Kavanaugh
Wine Club Manager, Annette Dennigmann, has been with Adelaida since November of 2008. From then on, working at Adelaida has become more than just a job. It was through her time at Adelaida that she met her husband and eventually they were even wed by a coworker! Annette has watched Adelaida's growth over the last seven years and is extremely grateful to have been a part of it. When asked what she loves most about her job she will always say, "The Club Members!", reflecting on the great people she has met here at Adelaida and looking forward to meeting many more. When she is not
busy shipping Adelaida wine all across the country, she enjoys time with her friends, family, and most of all, getting love from her grand babies.
Annette always strives to do her best when accommodating our Club Members and she has an amazing assistant who shares the same passion for customer service.
Morgan Kavanaugh joined the Adelaida team in the Fall of 2013. As our Sales Coordinator she works closely with Annette and all things wine club. Whether managing orders or chatting with Club Members, Morgan is always ready with a smile. Having received her B.A. in Environmental Studies from UC Santa Barbara, Morgan has also taken an interest in our sustainability program and played an important roll in filing for our recent certification through the California Sustainable Winegrowing Alliance. When not at work, Morgan loves exploring the outdoors and enjoying the wonderful wines of the Central Coast.
Comments
Commenting has been turned off.