May 7, 2020 | Adelaida Team
2020 Summer Shipping Options
At Adelaida, we are committed to offering safe shipping options for your online wine purchases, especially during the summer.
California Shipments – Ice Packs
The majority of California shipments are shipped overnight and are out for delivery the following business day. During the summer months, we do suggest adding ice packs to your order to be safe. Just simply select UPS w/Ice for your shipping option
---
UPS/FedEx Cold Trucking
To facilitate shipments during the summer, Adelaida offers refrigerated trucking services, protecting your wine from extreme temperatures during its travel across the country to your local hub.
Time in Transit: 5 to 10 days
During Checkout: please select "Cold Truck Shipping" for your shipping option
Cold Truck Shipping Process: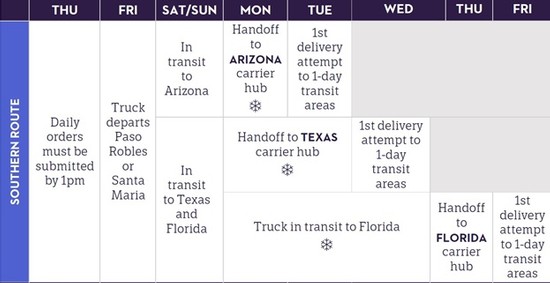 Feel free to contact our wine club team at wines@adelaida.com or 805.239.8980 ext. 14 for further information.
Comments
Commenting has been turned off.