Winery News

As of June 28, a high pressure system has settled on the entire West Coast, and weather experts are forecasting several days of high heat and possibly record-breaking temperatures. With that projection in mind, and with seeds beginning to harden and veraison on the near horizon, we decided to give the plants some water.
While we employ a technique known as deficit irrigation to control shoot growth and increase grape quality, we want to keep the plants alive. Over the next several days we'll continue to feed the plants enough water to counterbalance evaporative losses.
These early-season high temps are preferable to those that occur late in the season, as the intense heat induces the green grapes to make sunscreen in the skins, which will provide protection throughout the summer.
When the heat recedes we'll finish our cluster thinning pass, which we began several weeks ago. This involves culling excessive clusters and those on weak shoots with an aim to balance the fruit load to the age of the vine, its size, the size of the canopy, and the size of the shoots.

In a continuing effort to enhance the diversity of our existing vineyards, Adelaida has added a new 23 acre parcel this spring. This new planting lies just to the north of our hilltop Anna's Vineyard on what was fallow land. This new site can be described as 3 distinct fingers radiating in a south facing orientation from a 1900 ft ridge top to a small canyon bottom, at a precarious 25-30 degree angle. In keeping with our sustainable and conservationist approach to farming the new vines are to be dry farmed and head trained.
This planting is divided equally between Grenache, Carignane and a unique intermingling of Zinfandel and Alicante Bouchet. This vine selection is based on our desire to complex our Rhone blend with low yield Carignane, make Grenache a more important player in the winery blends as well as on its own and make a "field blend" of Zinfandel and Alicante Bouchet (a red fleshed grape) a la the pre-prohibition vineyard example. As always, our primary goal as a family winery is to source grapes from our own vineyards, where we can meticulously control all the elements of quality (great grapes equal great wine). We intend to stay small, carefully growing our capacity from the current 15,000 cases to 20,000 cases.
What is involved in planting a new vineyard?
First is site selection. We want south facing, hillside slopes with difficult low yielding soils, all present here. Call your favorite nursery and order 6970 vines, allow 9 months lead time. Next is the hard part, preparing the site. No problem.
Start by building a perimeter deer fence 8 ft. high. Next clear brush from hillside, put in gear our reliable Caterpillar crawler tractors, then grind up organic matter and spread on existing vineyards. Tractors again, pulling 3 ft. shanks "rip" the soil and remove giant limestone boulders, later to be broken with sledge hammers and used for the "Great Wall of Adelaida".
Dig channels and place irrigation pipelines for each vineyard section (helps with initial watering when vines are just starting and gives us a fallback if soils are too extreme and cannot sustain dry farming approach).
Run temporary lines to each plant location with drip emitters at each vine. With assistance from a surveyor lay out orientation for a dry land vineyard, setting up a 12x12 ft. diagonal grid pattern on an uneven, unlevel piece of ground, 303 vines/acre.
Place stakes every 60 ft. and lay string between to display grid pattern, careful to mark individual vine placements. Dig post holes for each vine, a hand operation, 12-14 inches deep, 6970 times. When vines arrive on the 2nd week in March, place in cold storage. Planting begins in last week of March.
We start by mixing existing soil with compost derived from natural chicken manure, a 75 to 25 ratio, placing vines in pre-prepared holes and gently filling in with soil mixture. Place pressure bombs at various locations within vineyard to monitor soil moisture.
Every day in April recite the "no frost farmer's" prayer. Again, pray for green shoots to appear in mid April. Maintain adequate moisture throughout summer and remove emitters in fall. Good luck, vines are now on their own, Mother Nature is in charge.

I have been abundantly thankful for the quality and character of people on our production team. This past year, and most notably, the past Harvest would not have been such a glowing success without their tireless hard work and dedication. These guys are very dear to me, like family
Meet Hugo Cabrera, Cellarmaster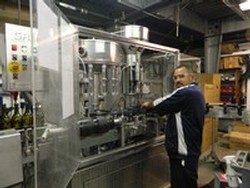 Photo is Hugo tinkering with our bottling line.
Hugo has been with Adelaida Cellars for 6+ years now. He has been my right-hand-man since I came back to Adelaida as Assistant Winemaker in 2011 and I couldn't be more appreciative of him. As the leader of the production team, Hugo plays a number of vital roles at the winery. Among them: Bottling Line Magician, Sanitation Drill Sergeant, Cattle Prod Expert, Forklift King, and Winery Equipment Guru. Hugo takes proud ownership of the cellar and commands respect by setting a good example for the crew. He's a task-master, and there's not a job I can't trust him with. Hugo lives in San Miguel with his lovely wife, Isabel, and three kids plus one more on the way! He's hoping for another boy, but methinks it's a girl. ;-)
Next up is David Michael Keith, our Enologist.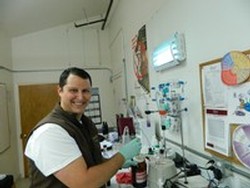 Photo is of David performing a Free SO2 analysis in the lab.
David is the newest member of the production team. I met David while finishing up my degree at CalPoly. He originally joined our team for a seasonal Harvest position. Forces beyond our control presented a number of challenges for us this past Harvest, and David selflessly volunteered to take a quarter off at CalPoly to work on our team full-time, ensuring a successful vintage. For that, I am eternally grateful. David has since graduated from Cal Poly and become the Enologist at Adelaida. I suppose I could call him my "left hand man" because, like Hugo, I count on him for a lot. He performs all the lab analysis for our wines—and I mean all of it. The lab is now outfitted such that very few samples ever have to be sent to outside chemists.
Zack Vivian, Cellarus Ratus, is next. Cute, isn't he?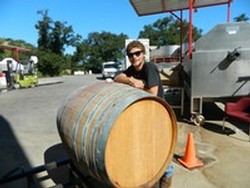 Photo is of Zack outside by the bladder press, hanging out on/with a barrel.
2013 was Zack's 3rd Harvest at Adelaida Cellars. We have been continuously impressed with Zack's work ethic and can-do attitude, so we decided to hire him full-time after this past Harvest. Zack is a young, fun, quirky Paso Robles native who is showing increasing interest and passion for a career in the wine industry. I can't wait for him to turn 21, because then I can show him the more esoteric and hedonistic side of winemaking. Zack is hoping to jump-start his career by doing some overseas harvests next year.
Last, but certainly not least, is Jose Graciano, Cellarus Ratus tambien.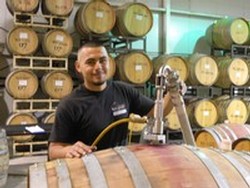 Photo of Jose racking one of our Syrah puncheons to tank for the 2011 Anna's Syrah Blend.
Jose was first introduced to Adelaida Cellars, and to the wine industry in general, as a seasonal intern last harvest. He was and continues to be such a hard-worker and quick-study at all things production, we just had to have him as well. So, like Zack, we picked him up full-time after the 2013 Harvest. I think of him as Hugo's "mini-me"—though he's SO not mini. Have you seen the guns on this guy?!? He's proving to be a very trusted and loyal member of our team. Also, we're happy to announce the birth of his firstborn child, a little girl (muahahaha), Elissa Graciano, 8 pounds, 3 ounces on 5/14/2013.

With the strong belief that the best wines come from the best fruit, we have begun making a series of major investments in all of our vineyards (HMR, Anna's, Viking, Michael's and our newly planted vineyard.) Our two key goals are that every bottle of Adelaida wine represents our vineyards and that our farming practices ensure the long-term vitality of the vineyards.
For starters, we are doing away with herbicides. While convenient, cheap, and certainly effective in the short term, herbicides are unnecessary at best and at worst they disturb the natural habitat of beneficial insects, among other things. To combat weeds, we have purchased a cultivator that cuts weeds in the vine rows without harming the plants.
Next, we are looking to build up the soil health by choosing cover crops that match each ranch and each soil type within each ranch. The cover crops will provide nutrients, erosion resistance, and a home for beneficial insects. As part of this program we will introduce organic compost into the vineyard in the winter.
We are taking a closer look at vine nutrition. As the saying goes--and with some caveats--struggling vines make great wine. This adage has its limits, of course. We don't want to kill the vines, but we also don't want them fat and happy. So, we will be measuring the vines' uptake of nutrients at critical points during the growing season—bloom and veraison—to determine whether they require supplemental micronutrients. And we will also be measuring how much water the vines are seeing by using a pressure bomb.
In the spring of 2013 we planted 23 acres of new vines comprising Zinfandel, Alicante Bouchet, Grenache and Carignan. They are on a steep hillside facing south. We will head-train these plants—that is, they will grow up without a trellis-- and we will farm this area without irrigation.
Finally, we have retained Daniel Fischl of Eartrumpet Consulting to help guide us to reach our goals. Daniel is an experienced viticulturist with clients in Australia, China, Italy, Israel and Napa. His current and former clients include Screaming Eagle, Harlan, Bond, Aubert, Peter Michael, and David Abreu.

We're excited about the way the 2012 wines are developing. While their baby fat is still very much present, the wines reflect in their underlying richness and precision the nearly perfect growing season of the vintage. Not only did warm temperatures return after two consecutively cool years, but yields were up, too.
Rainfall between November and April (when the bulk of the annual precipitation occurs) was slight, especially in contrast to the previous two years, but not critically so, and there was rain into May. We saw budbreak first in our Upper West Block of Pinot noir, followed closely by Syrah and Grenache in Anna's Vineyard. Budbreak finished in the Lower Viking vineyard with Cabernet Sauvignon.
From the end of May into June daytime temperatures were in the 80s and 90s, with occasional spells of heat, which led to even and successful flowering. July temperatures were unusually erratic, with some days in the 70s followed by days that eclipsed 100. Fortunately, the nights were largely cool, which allowed the vines to recover.
The return of seasonably warm days (compared to 2010 and 2011) snapped veraison—the period when the skins soften, sugars accumulate and, in the case of red varietals, color pigments known as anthocyanins are synthesized-- back to its normal schedule.
The heat continued into August, in which we recorded two weeks over 100, but our top-notch vineyard crew stayed on top of thing and metered out enough water to keep the plants transpiring. September was virtually perfect, with warm days and cool nights and only a handful of hot days.
On August 29 we harvested Syrah from Viking Ranch vineyard as our first pick of the year off the estate. From that point on, the action was non-stop for six weeks, as the vineyard and production crews worked tirelessly to bring in fruit at its optimum and process it in time for the next pick. By the time we finished our last estate pick—Picpoul blanc, on October 18—and our last off-site pick—Carignane from Camp 4 in Santa Ynez Valley--we were exhausted but also elated by the vintage's prospects.