Winery News
We have strengthened our team of experts with the addition of Brianne Engles, our new Assistant Winemaker, and Glenn Mitton, Winery and Vineyard Ambassador who became a Certified Sommelier through the Court of Master Sommeliers.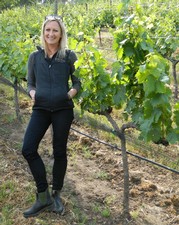 Engles brings local and global winemaking experience, from the Napa Valley to the Barossa Valleynow to the Paso Robles winery,and works alongside winemaker Jeremy Weintraub. Her skills in the cellar and work in the laboratory add to the sophistication and commitment to wine quality exemplified by the estate vineyard winemaking team. Her past experience in serving as an assistant winemaker and practice with blending is a strong addition for Adelaida.
"Engles will work with me in all aspects of production from the vineyard to the bottle," said Weintraub. "We will work closely together to ensure we grow the best wines from the estate. I am excited to have her as an integral part of the winemaking team."
A California Polytechnic State University graduate, Engles brings more than 10 years of hands-on experience to and most recently served as the enologist at Quintessa Winery in the Napa Valley.
Adding to the list of winery announcements is Mitton's certification. With more than 20 years experience in the wine industry, Mittonrecently earnedhis credentials to become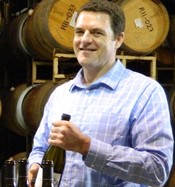 a certified sommelier through the Court of Master Sommeliers. Mitton, who hails from the United Kingdom, worked in wholesale wine sales and owned a fine wine shop before he moved to Paso Robles in 2008 to experience the production aspect of the wine business. Mitton worked two harvests but found his passion in working directly with customers. He worked at JUSTIN Vineyards and Winery before joining Adelaida in 2014, where he leads private wine tastings and the winery's Tour, Taste and Tailgate (TT&T) Tours.
Mittons quest for a challenge began by earning his credentials through the Wine &Spirit Education Trust (WSET) and in 1999 he acquired level 3. Mitton believes that reading, tasting and enjoying wine is what it's all about, but he also believes in challenginghimself to test his memory when the moment matters.
"I am very proud of the team at Adelaida Cellars," said general manager Jessica Kollhoff. "Engles' experience and enthusiasm strengthens our winemaking team and Mitton's credentials in wine education allow us to connect with our customers on a deeper level."
For those of you who have visited us in the past couple of years, you've probably noticed the necessity for a larger tasting room! We have officially grown out of our current space and we're getting closer to moving into our new facility sometime in early 2016.
The new "digs", just a stone's throw away from the old, will feature a larger tasting room with a beautiful Adelaida stone fireplace, and a deck overlooking our 80-year-old walnut orchard. There will be a sensory room where you will be invited to attend private seated reserve and library tastings with an Adelaida wine educator, including food components and proper stemware. On the other side of the tasting room we will have a club lounge; a private area for club members to comfortably enjoy a casual tasting away from the busy bar. Beneath the tasting room we have built a large barrel room that can be utilized for winemaker's dinners and private events. This room is complete with a commercial kitchen perfect for magical meals and interesting food pairings.
Witnessing this transformation continues to be both exciting and challenging. Our parking lot location has become a heavy equipment turnabout. Water and power have come and gone a few times during the process, leaving us without internet access. Friendly construction workers greet us each morning, and the job superintendent has become a wine club member. Hardhats are all the rage out here – even owner Elizabeth Van Steenwyk wears one whenever she walks through to check on momentum!
Every day we see new changes. Currently the wood siding is being applied to a new office building and an Adelaida stone wall is being installed around the new parking lot. It's thrilling to see these improvements moving right along and knowing that by this time next year we will be well settled into our new home.
We will continue to keep you informed of our progress as time goes by and hope that each and every one of you will be able to join us for our Grand Opening festivities early next year. Stay tuned!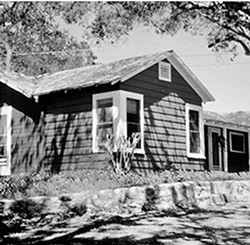 Just like our 50-year-old HMR Vineyard, Adelaida's roots run deep. As one of the pioneers of the Paso Robles AVA and the Adelaida District, many have witnessed our evolution over the last 34 years. In the 1970s, the Van Steenwyk family purchased the ranch where Adelaida Cellars is now located. Shortly thereafter, they began spending weekends at the old farmhouse on the property. It wasn't until 1991 that Adelaida's first tasting room opened in our current location with a remodel to follow in 2004. With time and hard work Adelaida Cellars has grown. Our seventh Estate Vineyard was planted in 2013 and our production facility was renovated last winter. This January we broke ground on our new Hospitality Center. The tasting room will sit where the oldfarmhouse was once located. Now, Adelaida guests will be able to enjoy the same views that the Van Steenwyk family fell in love with over 30 years ago. We look forward to sharing many memorable visits with you in the future.
In a rare, quiet moment during the 2014 harvest season, Annette Dennigmann, our Wine Club Manager, sat down with Winemaker Jeremy Weintraub. Jeremy holds a Master of Viticulture and Enology from UC Davis and has worked on the North and South Islands of New Zealand, in Italy, and in St. Helena California. Now settled on the Central Coast, he has been with Adelaida Cellars since 2012.

Q: What was the first fruit that arrived for the 2014 vintage?
A: We picked a small portion of chardonnay for its bright and energetic potential. Last year we split our 3.8 acre chardonnay block into three separate parcels that differ in slope, aspect, and elevation, enabling us to pick across a range of flavors.
Q: 2014 marks the 50th anniversary for the HMR Pinot Noir vines. How does the age of the vines contribute to the wine?
A: The fruit from older vines produce wines of greater depth and complexity than do their more youthful counterparts. The differences are not quantifiable. You simple know it when you taste it.
Q: We have a new baby on board, the concrete tank. How does this differ from stainless or barrel? What will this bring to the wine?
A: We're planning to use this tank for fermenting and aging grenache noir. Concrete tanks highlight the purity of the fruit inside and also, compared with, say stainless steel, allow for rich flavor development. Unlike oak, concrete imparts no toast character or tannin.
Q: What impact of challenges has the California drought had on this harvest?
A: Incredibly, we haven't seen any negative effects of the drought. Our farming plan now and into the future is to severely ration the amount of water we deliver to our vines, with the dual goal of making more interesting wine and conserving this precious resource. While drought is a major concern for us, our vines so far have weathered it well.
Q: When did you begin your career as a winemaker? What do you like best about your job?
A: I started on Long Island, driving a tractor for a family owned vineyard and then working harvest in the winery. What I loved then is what I love now: tasting fruit in the vineyard, smelling fermenting tanks, getting incredibly sticky, and sharing those long days with like-minded people.
Q: What changes have you made in the vineyards since you started?
A: Beginning 2013 we stopped spraying herbicides and we moved to organic fungicides, such as mineral oil, from synthetic sprays. Being good stewards of the land has always been a priority for Adelaida Cellars. It's essential for the long term success and health of your farming operations.
Q: We have three interns that we added to our already amazing production team for this year's harvest. Could you tell us a little something about them?
A: We have an intern from the University of Bordeaux, France, an intern from the University of Udine, Italy and a recent graduate from the University of California, Davis. The interns are hardworking and serious. Plus they are making us some delicious meals!

The 2013 harvest was the earliest on record for Adelaida due to low winter rainfall and steady warmth throughout the growing season. Total yields were about average and quality was excellent. At this early stage, with most of the wines still completing their secondary fermentation in barrel, the reds are deeply colored and the whites are showing great richness and vibrancy.
This year was our first farming organically. The dry conditions allowed us to limit the number of passes we made in the vineyard to control fungi, and, even with those drought conditions, we severely limited irrigation to occasions where the plants would have suffered without it.
On August 19 we picked the first fruit of 2013: A small amount of Chardonnay, Pinot noir from 6 rows in the northeastern part of our HMR vineyard, and syrah from our Viking vineyard. Simply put, the fruit was ready to come off the vine. By way of contrast, and as a demonstration of the effect of temperature on harvest date, in the cool 2011 vintage, we picked the first Chardonnay on September 19, the first HMR Pinot noir on September 23, and the Viking syrah on September 21.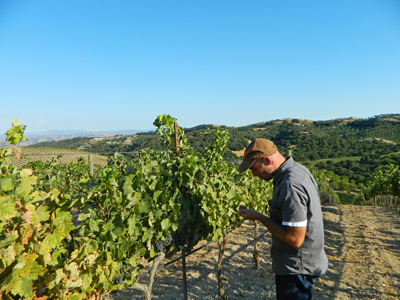 Our final pick of 2013 was muscat for our dessert program from Bobcat vineyard on November 11. We made two passes in the muscat, the first being clean fruit with high sugar and relatively more acid (31 brix) and the second with a little botrytis (at 33 brix). The botrytis infection was limited because of dry growing conditions, and we hope to see more in 2014.
We brought in significantly less zinfandel and cabernet sauvignon in 2013, much to our disappointment. The cabernet berries, in particular, were very tiny, and the Viking vineyard, which was planted in 1991, showed its age by not producing as much fruit. But what that vineyard lacked in fruit quantity it made up for in quality.
The zinfandel vines from Michael's block, named after our stellar ranch manager Michael Whitener, bore the combined effects of drought conditions and dry farming. The fruit struggled to reach its typical sugar levels, and we made several surgical passes throughout the growing season to balance the amount of fruit with the vine's ability to ripen it. We're happy that we did, as the wines so far show great finesse and spice.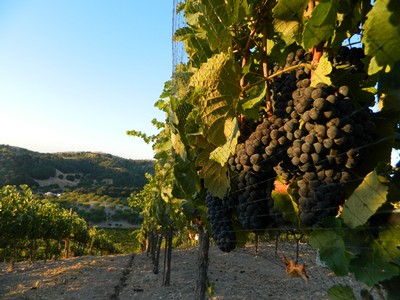 In between the first and final picks, we saw much to admire in 2013. The red berries had thick skins, which they synthesized as a result of several environmental and cultural factors, including sunlight, temperature, shoot positioning and low rainfall. The resulting wines have great color and extraordinary tannin. The whites grapes benefited from cool nights, which helped retain their acidity, and careful farming, which kept leaf cover over the fruit to minimize sun damage. Our switch to night harvesting in 2013 kept the fruit nice and cool when it arrived at the winery.


Le Beaujolais Nouveau 2013 est arrivé at Adelaida Cellars!
Adelaida Cellars, maker to the only Gamay Beaujolais Nouveau in Paso Robles, is keeping with the French tradition to release the first wine of the 2013 vintage on the 21st, the third Thursday of November. Beaujolais Nouveau is the first wine of harvest, drinkable a mere 7-8 weeks after grapes are picked and is a harbinger of the vintage quality. Each year, Adelaida releases the Beaujolais on the third Thursday with a celebratory dinner to follow on Saturday evening.
Nestled in the original HMR Vineyard, Adelaida's Gamay, is now in its 49th year. True to the nouveau style, this Beaujolais uses a method called carbonic maceration, where grapes are fermented as whole intact berries in a sealed environment and without oxygen. The yeast penetrates the grape skin and acts on the natural sugars in the interior of each grape, producing particularly juicy, exuberant fruity flavors. This year's vintage exceeds expectations with its focused, crisp-edged strawberry-blueberry notes. Serve slightly chilled and pairs beautifully with Thanksgiving classics of roast turkey and cranberry.
With the Beaujolais release comes the vintage celebration on Saturday, November 23rd at Adelaida Cellars. This year, Guest Chef Donald Wressell will be at the helm. Chef Wressell is the Executive Chef for E. Guittard Chocolates and former Executive Pastry Chef for the Four Seasons, Beverly Hills. He has invited Chef Sherry Yard of Spago fame. He will be presenting his multi-course menu paired with the best of Adelaida wines along with the Beaujolais release. Tickets are $100/ $80 for wine club. 6:00 PM -10:00 PM and available at 805.239.8980. For the menu visit www.adelaida.com/events.
The Summer Newsletter was created throughout the late spring and early summer months of 2013. With notes from the Winemaker Jeremy Weintraub, insights from Resident Wine Educator Tony Hermann, and from National Sales Manager, Paul Sowerby, a lively review of our cellar wines, it is a work that incorporates the many voices of Adelaida. Also included is a recipe pairing for Grilled Swordfish, a list of our most recent wines, notes on our new 2011 Pinot Vineyard Series, and a list of upcoming events.
The cover photo is of one of our newest additions, Liam the llama. He came to Adelaida in March with his big black coat, thick and matted, from the cold winter months. His face, warm and friendly, boasts dark eyes and lengthy lashes, giving him the appearance of a big flirt as he greets our guests. At the winery, Liam's job is to protect the sheep and he acts the part by being on constant watch. In times of trouble or simply to play, he is always quite the show with his long loose strides and lengthy neck gaining momentum as he removes the sheep from danger.
Click below to see our 2013 Summer Newsletter. Cheers, Sunni

At 2:00am on August 19th our vineyard team started harvesting Chardonnay and Pinot Noir from our HMR vineyard as well as a small block of Syrah from our Viking vineyard. With Winemaker Jeremy Weintraub at the helm, he has been working diligently all year with our Vineyard Consultant, Daniel Fischl and Ranch Managers, Mike Whitener and Ota Espinoza just for this moment. The grapes are now ready and we look forward to the results of all of their hard work. Following is a brief look at some of our new practices, new equipment, and new barrels for the 2013 vintage.
To date we have brought in Chardonnay (HMR Vineyard), Viognier (Anna's Vineyard), Pinot Noir (HMR Vineyard), Syrah from both Viking and Anna's Vineyards, Gamay (HMR Vineyard) and Malbec from Viking Vineyard.
New this year, we are harvesting in the middle of the night for several reasons that pertain to our sustainability and quality! Cool and happy ranch employees. Second, cooler grapes stay in tact and ensure quality. Cooler grapes won't start premature fermentation and last, cooler grapes take less energy to cool down for cold soak prior to fermentation.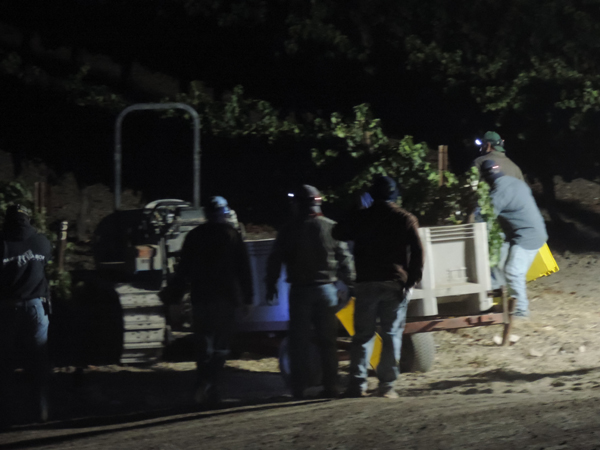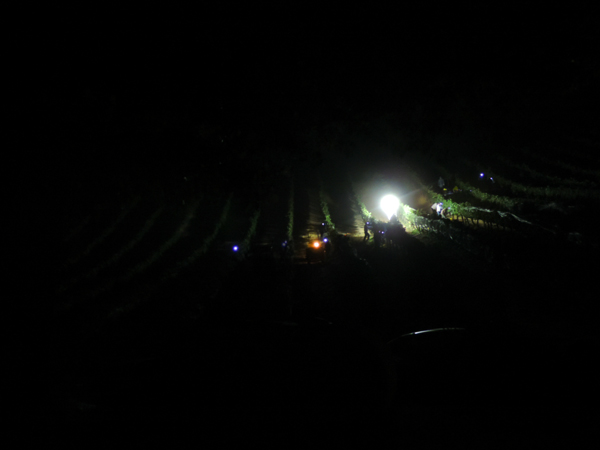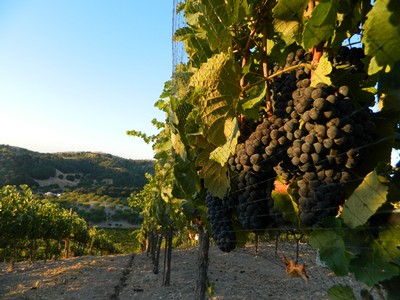 New winemaking practice this year- Our Winemaker, Jeremy Weintraub, is executing "pigeage" pronounced peej/AHGE on our Syrah/Viognier blend in order to delicately introduce Viognier into the Syrah. Most grapes stay in tact during the whole berry fermentation, while some juice from both of the varietals are introduced. This is a tradition borrowed from the Northern Rhône area of France like Cote-Rotie.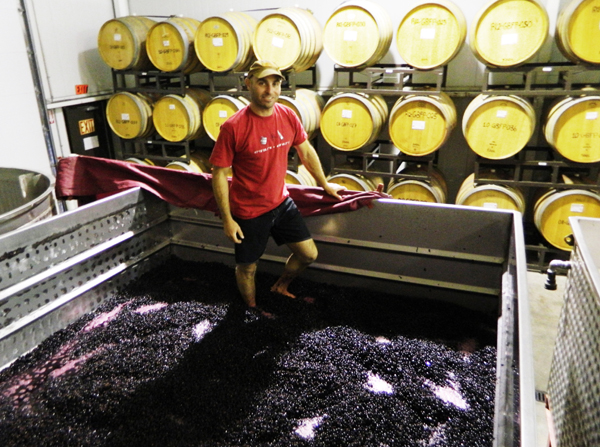 This harvest, we are introducing new Italian winemaking equipment,including the Pellanc de-stemmer and sorting table!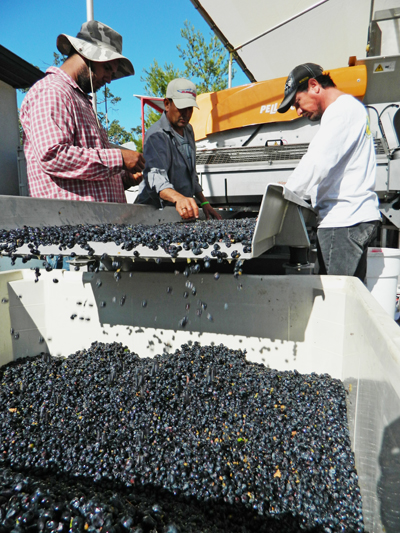 Brand new oak barrels!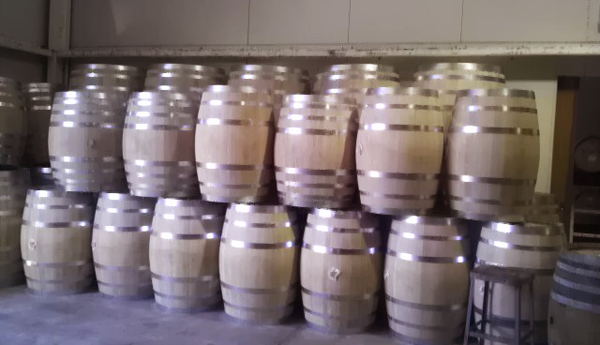 You have heard the saying, "Every day is a new day", well, during harvest, every minute is a new day! Stay tuned and we will keep you updated!
Cheers,
Cynthia


As of June 28, a high pressure system has settled on the entire West Coast, and weather experts are forecasting several days of high heat and possibly record-breaking temperatures. With that projection in mind, and with seeds beginning to harden and veraison on the near horizon, we decided to give the plants some water.
While we employ a technique known as deficit irrigation to control shoot growth and increase grape quality, we want to keep the plants alive. Over the next several days we'll continue to feed the plants enough water to counterbalance evaporative losses.
These early-season high temps are preferable to those that occur late in the season, as the intense heat induces the green grapes to make sunscreen in the skins, which will provide protection throughout the summer.
When the heat recedes we'll finish our cluster thinning pass, which we began several weeks ago. This involves culling excessive clusters and those on weak shoots with an aim to balance the fruit load to the age of the vine, its size, the size of the canopy, and the size of the shoots.

In a continuing effort to enhance the diversity of our existing vineyards, Adelaida has added a new 23 acre parcel this spring. This new planting lies just to the north of our hilltop Anna's Vineyard on what was fallow land. This new site can be described as 3 distinct fingers radiating in a south facing orientation from a 1900 ft ridge top to a small canyon bottom, at a precarious 25-30 degree angle. In keeping with our sustainable and conservationist approach to farming the new vines are to be dry farmed and head trained.
This planting is divided equally between Grenache, Carignane and a unique intermingling of Zinfandel and Alicante Bouchet. This vine selection is based on our desire to complex our Rhone blend with low yield Carignane, make Grenache a more important player in the winery blends as well as on its own and make a "field blend" of Zinfandel and Alicante Bouchet (a red fleshed grape) a la the pre-prohibition vineyard example. As always, our primary goal as a family winery is to source grapes from our own vineyards, where we can meticulously control all the elements of quality (great grapes equal great wine). We intend to stay small, carefully growing our capacity from the current 15,000 cases to 20,000 cases.
What is involved in planting a new vineyard?
First is site selection. We want south facing, hillside slopes with difficult low yielding soils, all present here. Call your favorite nursery and order 6970 vines, allow 9 months lead time. Next is the hard part, preparing the site. No problem.
Start by building a perimeter deer fence 8 ft. high. Next clear brush from hillside, put in gear our reliable Caterpillar crawler tractors, then grind up organic matter and spread on existing vineyards. Tractors again, pulling 3 ft. shanks "rip" the soil and remove giant limestone boulders, later to be broken with sledge hammers and used for the "Great Wall of Adelaida".
Dig channels and place irrigation pipelines for each vineyard section (helps with initial watering when vines are just starting and gives us a fallback if soils are too extreme and cannot sustain dry farming approach).
Run temporary lines to each plant location with drip emitters at each vine. With assistance from a surveyor lay out orientation for a dry land vineyard, setting up a 12x12 ft. diagonal grid pattern on an uneven, unlevel piece of ground, 303 vines/acre.
Place stakes every 60 ft. and lay string between to display grid pattern, careful to mark individual vine placements. Dig post holes for each vine, a hand operation, 12-14 inches deep, 6970 times. When vines arrive on the 2nd week in March, place in cold storage. Planting begins in last week of March.
We start by mixing existing soil with compost derived from natural chicken manure, a 75 to 25 ratio, placing vines in pre-prepared holes and gently filling in with soil mixture. Place pressure bombs at various locations within vineyard to monitor soil moisture.
Every day in April recite the "no frost farmer's" prayer. Again, pray for green shoots to appear in mid April. Maintain adequate moisture throughout summer and remove emitters in fall. Good luck, vines are now on their own, Mother Nature is in charge.

I have been abundantly thankful for the quality and character of people on our production team. This past year, and most notably, the past Harvest would not have been such a glowing success without their tireless hard work and dedication. These guys are very dear to me, like family
Meet Hugo Cabrera, Cellarmaster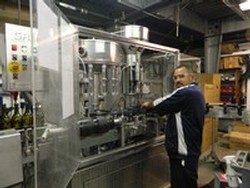 Photo is Hugo tinkering with our bottling line.
Hugo has been with Adelaida Cellars for 6+ years now. He has been my right-hand-man since I came back to Adelaida as Assistant Winemaker in 2011 and I couldn't be more appreciative of him. As the leader of the production team, Hugo plays a number of vital roles at the winery. Among them: Bottling Line Magician, Sanitation Drill Sergeant, Cattle Prod Expert, Forklift King, and Winery Equipment Guru. Hugo takes proud ownership of the cellar and commands respect by setting a good example for the crew. He's a task-master, and there's not a job I can't trust him with. Hugo lives in San Miguel with his lovely wife, Isabel, and three kids plus one more on the way! He's hoping for another boy, but methinks it's a girl. ;-)
Next up is David Michael Keith, our Enologist.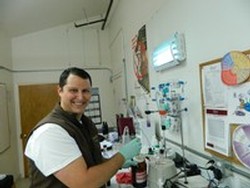 Photo is of David performing a Free SO2 analysis in the lab.
David is the newest member of the production team. I met David while finishing up my degree at CalPoly. He originally joined our team for a seasonal Harvest position. Forces beyond our control presented a number of challenges for us this past Harvest, and David selflessly volunteered to take a quarter off at CalPoly to work on our team full-time, ensuring a successful vintage. For that, I am eternally grateful. David has since graduated from Cal Poly and become the Enologist at Adelaida. I suppose I could call him my "left hand man" because, like Hugo, I count on him for a lot. He performs all the lab analysis for our wines—and I mean all of it. The lab is now outfitted such that very few samples ever have to be sent to outside chemists.
Zack Vivian, Cellarus Ratus, is next. Cute, isn't he?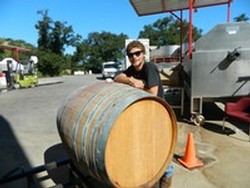 Photo is of Zack outside by the bladder press, hanging out on/with a barrel.
2013 was Zack's 3rd Harvest at Adelaida Cellars. We have been continuously impressed with Zack's work ethic and can-do attitude, so we decided to hire him full-time after this past Harvest. Zack is a young, fun, quirky Paso Robles native who is showing increasing interest and passion for a career in the wine industry. I can't wait for him to turn 21, because then I can show him the more esoteric and hedonistic side of winemaking. Zack is hoping to jump-start his career by doing some overseas harvests next year.
Last, but certainly not least, is Jose Graciano, Cellarus Ratus tambien.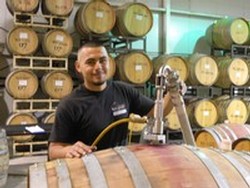 Photo of Jose racking one of our Syrah puncheons to tank for the 2011 Anna's Syrah Blend.
Jose was first introduced to Adelaida Cellars, and to the wine industry in general, as a seasonal intern last harvest. He was and continues to be such a hard-worker and quick-study at all things production, we just had to have him as well. So, like Zack, we picked him up full-time after the 2013 Harvest. I think of him as Hugo's "mini-me"—though he's SO not mini. Have you seen the guns on this guy?!? He's proving to be a very trusted and loyal member of our team. Also, we're happy to announce the birth of his firstborn child, a little girl (muahahaha), Elissa Graciano, 8 pounds, 3 ounces on 5/14/2013.

With the strong belief that the best wines come from the best fruit, we have begun making a series of major investments in all of our vineyards (HMR, Anna's, Viking, Michael's and our newly planted vineyard.) Our two key goals are that every bottle of Adelaida wine represents our vineyards and that our farming practices ensure the long-term vitality of the vineyards.
For starters, we are doing away with herbicides. While convenient, cheap, and certainly effective in the short term, herbicides are unnecessary at best and at worst they disturb the natural habitat of beneficial insects, among other things. To combat weeds, we have purchased a cultivator that cuts weeds in the vine rows without harming the plants.
Next, we are looking to build up the soil health by choosing cover crops that match each ranch and each soil type within each ranch. The cover crops will provide nutrients, erosion resistance, and a home for beneficial insects. As part of this program we will introduce organic compost into the vineyard in the winter.
We are taking a closer look at vine nutrition. As the saying goes--and with some caveats--struggling vines make great wine. This adage has its limits, of course. We don't want to kill the vines, but we also don't want them fat and happy. So, we will be measuring the vines' uptake of nutrients at critical points during the growing season—bloom and veraison—to determine whether they require supplemental micronutrients. And we will also be measuring how much water the vines are seeing by using a pressure bomb.
In the spring of 2013 we planted 23 acres of new vines comprising Zinfandel, Alicante Bouchet, Grenache and Carignan. They are on a steep hillside facing south. We will head-train these plants—that is, they will grow up without a trellis-- and we will farm this area without irrigation.
Finally, we have retained Daniel Fischl of Eartrumpet Consulting to help guide us to reach our goals. Daniel is an experienced viticulturist with clients in Australia, China, Italy, Israel and Napa. His current and former clients include Screaming Eagle, Harlan, Bond, Aubert, Peter Michael, and David Abreu.

We're excited about the way the 2012 wines are developing. While their baby fat is still very much present, the wines reflect in their underlying richness and precision the nearly perfect growing season of the vintage. Not only did warm temperatures return after two consecutively cool years, but yields were up, too.
Rainfall between November and April (when the bulk of the annual precipitation occurs) was slight, especially in contrast to the previous two years, but not critically so, and there was rain into May. We saw budbreak first in our Upper West Block of Pinot noir, followed closely by Syrah and Grenache in Anna's Vineyard. Budbreak finished in the Lower Viking vineyard with Cabernet Sauvignon.
From the end of May into June daytime temperatures were in the 80s and 90s, with occasional spells of heat, which led to even and successful flowering. July temperatures were unusually erratic, with some days in the 70s followed by days that eclipsed 100. Fortunately, the nights were largely cool, which allowed the vines to recover.
The return of seasonably warm days (compared to 2010 and 2011) snapped veraison—the period when the skins soften, sugars accumulate and, in the case of red varietals, color pigments known as anthocyanins are synthesized-- back to its normal schedule.
The heat continued into August, in which we recorded two weeks over 100, but our top-notch vineyard crew stayed on top of thing and metered out enough water to keep the plants transpiring. September was virtually perfect, with warm days and cool nights and only a handful of hot days.
On August 29 we harvested Syrah from Viking Ranch vineyard as our first pick of the year off the estate. From that point on, the action was non-stop for six weeks, as the vineyard and production crews worked tirelessly to bring in fruit at its optimum and process it in time for the next pick. By the time we finished our last estate pick—Picpoul blanc, on October 18—and our last off-site pick—Carignane from Camp 4 in Santa Ynez Valley--we were exhausted but also elated by the vintage's prospects.