Vines and Cornerstones: Planting Foundations for the Future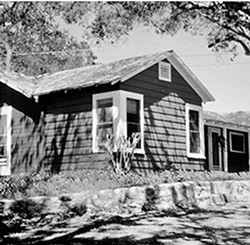 Just like our 50-year-old HMR Vineyard, Adelaida's roots run deep. As one of the pioneers of the Paso Robles AVA and the Adelaida District, many have witnessed our evolution over the last 34 years. In the 1970s, the Van Steenwyk family purchased the ranch where Adelaida Cellars is now located. Shortly thereafter, they began spending weekends at the old farmhouse on the property. It wasn't until 1991 that Adelaida's first tasting room opened in our current location with a remodel to follow in 2004. With time and hard work Adelaida Cellars has grown. Our seventh Estate Vineyard was planted in 2013 and our production facility was renovated last winter. This January we broke ground on our new Hospitality Center. The tasting room will sit where the oldfarmhouse was once located. Now, Adelaida guests will be able to enjoy the same views that the Van Steenwyk family fell in love with over 30 years ago. We look forward to sharing many memorable visits with you in the future.
Commenting has been turned off.